Introduction
TradingView's Black Friday sale has started today!
(From 23rd of November, for 5 days)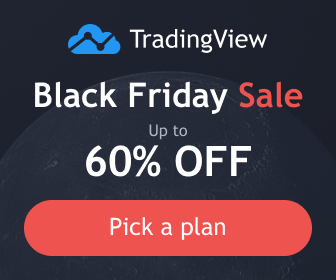 TradingView's Black Friday sale
TradingView sets a period of significant discounts on service usage fees as a "Black Friday Sale" once a year.
Black Friday is the Friday following Thanksgiving (the fourth Thursday of November) in the United States and is the start of the Christmas holiday season, when shopping is most common in the year. The common belief is that the reason for "black" is that the sale will increase the sales of retail stores and make any store profitable. "
Unlike Book Monday (the stock market crash), Book Friday is a very lucky day.
TradingView regular service fees
TradingView service fees are usually set as follows.
For annual contracts (about 14% discount for Pro plan, about 17% discount for Pro + plan and Premium plan)
TradingView Black Friday Sale Prices
Below are the prices for TradingView's Black Friday sale.
There is a big discount of -40% for the Pro plan, -50% for the Pro + plan, and -60% for the Premium plan with additional 1 month for free.
In addition, not only new users but also existing users are eligible for the discount.
The best way to use TradingView cheaply and for a long time is to take advantage of Black Friday Sale. If you use TradingView for daily trading and chart analysis, take advantage of this Black Friday sale.